Meet the Best Man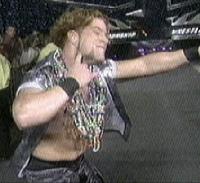 Dave Murrell is a eight-year veteran of AMS, currently ranked as a Principal.
Dave has known the groom for his entire AMS career, working closely with him for over six of those years. These days, although not working directly together, they are still averaging almost two lunches together a week. (Did somebody say McDonald's?)
Dave can usually be found in his office, with at least three machines fired up, working with the latest and greatest technology. He's usually sitting in his chair because standing up more than two hours after having last eaten makes him woozy. When he's not working, he can be usually be found with his newly-arrived son Wes (a.k.a. David W. Murrell V), his lovely wife Christy, their adopted greyhound Jake, or their 100-year-old cat, Princess. When he was still single, Dave was most famous for eating dinners consisting of an entire 17-ounce bag of hard pretzels and an entire two-liter bottle of Coca-Cola.
Dave is the only member of the wedding party who has "walked that aisle" before. As such, he will be in a unique position to handle all crises that may befall the event. These include, but are not limited to: a missing groom, a pushy photographer, or wedding guests with lampshades on their heads.
If one or more of these unfortunate events occur, he will not hesitate to ask Christy to do something about them.